Kellen Caldwell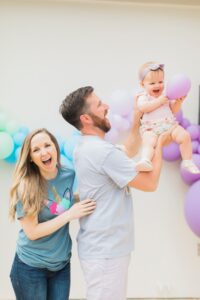 I know unequivocally I will seek out Seth for his methods, guidance, and education to achieve overall wellness.
I tore my ACL a little over a year ago and had surgery toward the end of February 2018. Not that there's a good time to tear an ACL, but to say that it was bad timing would be an extreme understatement as I was hired to film a 10-hour wedding less than 3 weeks after my surgery and my first born child was due less than a week after that wedding. Despite the surgery going well, I wasn't in great spirits. I was dreading not being able to make it through the wedding, having to be on my feet for 10+ hours, and not knowing if I even could. More importantly, I was worried about not being able to tend to my pregnant wife's needs leading up to delivery and have her fend for herself and take care of me while I rehabbed. The roles should have been reversed.<br>
Thankfully, I started physical therapy shortly after my surgery with Seth and he helped in a tremendous way. He greatly exceeded my expectations, not only with my knee recovery but with my overall physical well-being as well. Through multiple weekly PT visits, his guidance, and the right push I was able to recover far quicker than I originally had imagined. I was off of crutches in less than 2 weeks, was able to work through that entire wedding, had no issue helping my wife through her 26-hour delivery, and was able to hold my baby girl for the first time without fear of not being able to stand on my own two feet.
I continued to see Seth as I rehabbed my knee, but started to think I didn't need to continue going to physical therapy as I could "probably" do most of the exercises on my own at home. But I was wrong. Every week he would introduce a new movement or a new exercise that would improve my mobility and strengthen my knee even further than the week before. I certainly wouldn't have been able to come up with appropriate tweaks to the exercises or push myself to the extent that I should. He always seemed to have the right adjustment at the right time, however small it was, to make me progress that much more. He also held me accountable to the rehab work he instructed me to do on my own at home, which also helped speed up my recovery.
One of the biggest benefits of working with Seth was what I learned about my overall physical health throughout the rehab process. I work at a desk most hours of the day so I am prone to slouching, which has led to neck and lower back pain and weakness as well. During our physical therapy sessions for my knee, I expressed this to Seth and he began explaining how everything in our body is connected in some way. He had me work on core exercises from the beginning, which, at the time, seemed unrelated to my knee rehab, but ultimately made a huge, positive difference in my recovery. The way he explained everything to me and educated me on how my muscles work together made it easy to understand and even easier to implement because it just made so much sense. He clearly has a great understanding of the inner workings of the body and how everything ties in together in some way. I have since had virtually no neck and back pain to speak of and have corrected my posture along the way, primarily due to the work that Seth has had me do and the education that he has provided me. I have learned more about my body than I though I ever would have by simply needing rehab on my knee. My knee is 100% healed, I don't slouch nearly as much as I'm constantly reminded of what Seth has instilled in me (little Seth angel sitting on my shoulder telling me to sit up straight and engage my core), and overall I just feel better.
I certainly don't want to have a need to go through the rehab process again, but I know unequivocally I will seek out Seth for his methods, guidance, and education to achieve overall wellness.